PKAT Young Explorers returns!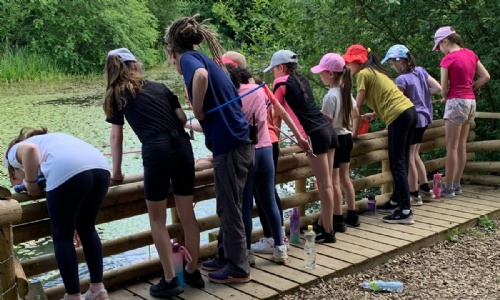 Year 5 PKAT Explorers Returns
This year the Year 5 PKAT children have continued their Young Explorers work with Mr O'Connor Duke of Edinburgh Award teacher at Jack Hunt School. Over the course of the year, in school, Mr O'Connor has worked with all the children to teach them outdoor expedition skills such as outdoor cooking, navigating using maps and compasses and general camp craft. The Adventure camps which took place last week at the Rutland Outdoor Education Centre (Wing Hall Estate) gave the children an overnight residential experience where the children could use all the skills they have learnt this year. The children got to experience the Forest School where they pond dipped, created Dens using materials and learnt the art of fire making using flint and steels! They also got to undertake the orienteering course across the whole estate, looking for letters to create a word and meet farm animals in the farm session. Once the children had completed all the days activities they returned to the camp and relaxed in the bell-tents before cooking their own Pasta meal in the early evening. Later on, the children retuned to the Forest School to toast marshmallows over the fire before heading back to camp to settle down for the evening.
Middleton teacher Mr A Hudson said 'Our Young Explorers trip to Wing Farm was one of the best trips that we have ever been on' - this was a quote from a member of staff and not a pupil! It captures the feelings amongst both staff and children as the trip was truly wonderful. We have so many memories of children with huge smiles on their faces and the memorable moments are too numerous to list. The activities were engaging throughout and the camping experience was enjoyed by all pupils. This was an amazing way to end our year of Young Explorer activities and the children are already looking forward to similar adventures next year!
All the children did incredibly well despite the very hot weather at times and had a great time.