Amazing Recipes at Thorpe!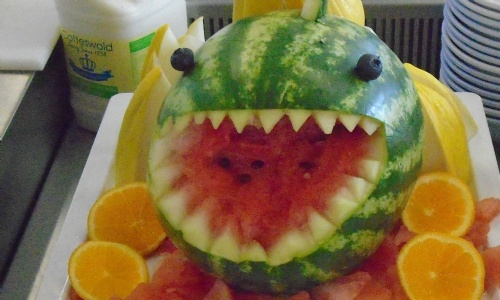 Catering Manager shares recipes with children and families.
Amazing recipes from Mrs Cresswell
Mrs Cresswell , Catering Manager at Thorpe Primary, has been showing the children how to make some amazing recipes. A lot of the recipes she is showing are used in the school kitchen as all our school dinners are made and created at school. The recipes are easy to follow, and she has created videos to show you each step of the way. Move over Nigella and Delia - Mrs Cresswell is taking over!
Banana Split - https://youtu.be/9mRfkmvtrvI
Making a Pizza part 1 - https://youtu.be/PBzLzMHMfzs
Making a Pizza part 2 - https://youtu.be/pWbZ5vkO8Rk
Mrs Cresswell has also been into assembly and demonstrated to the children how easy cooking can be with her fabulous Smoothie Recipe. This was a big hit with the children, and they couldn't wait to get home and try it out themselves.
Smoothie Recipe - https://youtu.be/tiYEdyTwQMc
Mrs Cresswell is passionate about the meals that are provided at Thorpe Primary School, ensuring that fresh, quality and local products are used to create a menu that is both varied and meets the government guidelines, ensuring that children have a well-balanced diet over the week. There are lots of opportunities for the children to taste different foods and they can always come and talk to her if they are unsure of menu items. Don't forget that along with main meals we also provide a picnic lunch or jacket potato option.
There are several more recipes on the school website Thorpe Primary School - Mrs Cresswell's recipes go on give them a try and send us some photos of what you have created!